Combating Stormwater Runoff: One school at a time!
Friday Sep 27, 2013

water conservation
Want to be a part of the next big GSI project in the neighborhood?
Hackett Elementary School bounded by York Street, Trenton Avenue, Hagert Street, and Sepviva Street is planning a major project to combat stormwater runoff from its school yard! Ideas are being taken now, for future installation in 2015. Neighbors are welcome to participate in a community visioning meeting for the project on Wednesday, October 2nd from 7pm to 9pm at St. Michael's Lutheran Church (2139 E. Cumberland Street).
Did you know? The more impervious surfaces there are in the city--such as, sidewalks, streets and rooftops, the more polluted water that enters the city's rivers and streams.
How does this impact you?
Philadelphia is known for having a combined sewer system. This means that when it rains a lot and the volume of combined stormwater and wastewater is larger than the system's capacity, the mixed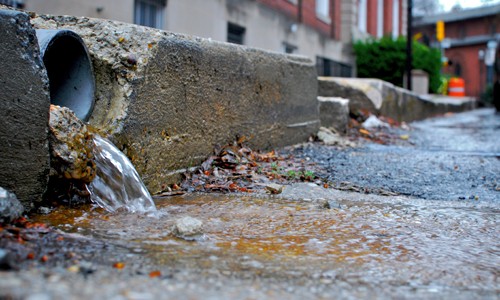 stormwater and wastewater runs off into the city's rivers untreated. As stormwater flows over sidewalks and streets it picks up trash, heavy metals and other pollutants. If that stormwater is discharged before being treated all those metals and pollutants end up into our drinking supply. Did you know that both the Schuylkill and Delaware river are used as sources of drinking water here in Philly? Stormwater runoff not only has a detrimental effect on our drinking supply, it also impacts flooding in streets and basements and can degrade natural habitats in wetlands and waterways.
What Philadelphia schools are doing about stormwater runoff?
Across Philadelphia, schools have been working to combat stormwater runoff through the installation of green stormwater infrastructure (GSI). GSI is a stormwater management system that helps soak up and store rainwater; this means that less stormwater will end up in Philadelphia's combined sewer system! The stormwater that does end up there can now flow into the system at a slower rate, reducing the pressure on existing infrastructure and combating the discharge of untreated stormwater and wastewater into our rivers.
Schools are an important piece of the stormwater runoff puzzle. Adding green stormwater infrastructure to school property not only helps the community combat stormwater runoff but at the same time, educates children and residents on sustainable practices that improve health, quality of life, and better the environment.
Schools have many GSI options to choose from, like:
Native plants and grasses:  they absorb stormwater runoff and, with the soil, capture and cycle water all on their own!
Rain Gardens:  a bowl-shaped garden with native grasses and flowers planted above layers of sand, gravel, soil, or rocks that help to slow down and hold in stormwater as well as remove pollutants.
Green Roofs:  only on very flat rooftops—which schools have a lot of! Green roofs have living plants growing on them that help catch and soak up rainwater. Not only are green roofs helpful in combating stormwater runoff, but they also help with insulation and cooling of the building below, which reduces energy costs!
Tree Trenches: on the ground, a stormwater tree trench looks like a series of trees planted along a sidewalk. However, underneath you will find a trench filled with stone or gravel and topped off with soil and trees. The rainwater flows through a storm drain to the tree trench where the runoff can be stored, water the trees, and slowly infiltrate underground.
Hackett Elementary's major project to combat stormwater runoff will be the second GSI project at a school in our neighborhood! The first is just a few blocks away at Kensington High School for the Creative and Performing Arts (KCAPA). KCAPA sits on a lot bordered by Front Street, Frankford Avenue, Palmer Street, and Norris Street known as the Big Green Block. This 20-acre piece of land is now a beautiful working showcase for green stormwater infrastructure. KCAPA boasts a 22,000 sq. ft. green roof, rain gardens, and of course, tree trenches!